The Red String of Fate
Sep 28
Internet Pals
Josh and I were Internet friends for years, but he was just like any other of my friends. We would talk on Skype all the time, text, call each other even if it was just to say hey. I knew I had feelings for him, but he was with another girl and soon got married to her. I didn't want to get in the middle of things, so I always kept my distance in that field. After being married he joined the Marines, went off to bootcamp and told me I could get the address from his wife whom of which never gave it to me. She told me some crude things after blocking me from every account he had and told me I wasn't welcomed in his life. I lost contact with him for 2 years, so just assumed we would never talk to each other again.
Well, you know what they say about assuming.
After awhile, Facebook just kept hounding me and to put in my old email address so I did in order to get rid of it I did. To my surprise, Josh popped on my screen so I immediately friend requested him and he immediately accepted. I asked him if he remembered me and he responded with, "OF COURSE! KELLYKINS!". I was more than thrilled. I asked about how he was and how he and his wife were and found out they were recently divorced. She cheated on him with multiple people and got pregnant while he was deployed. We quickly got off that subject and picked up basically right where we left off. 
About two months later he surprised me by telling me to pick him up at my local airport. We met for the first time and you could LITERALLY feel the static between us. While walking out the airport hand in hand, he told me he wasn't letting go. Not for a second. We both knew that we fell in love.
Well, here I am today, stumbling upon this website about the lovely red string of fate. Mine broke when I met him and I kid you not. A string I've worn for 4 years, broke, when we made contact. I've never thought I'd believe in things like this, but when that happened I instantly knew we were and are meant for each other. Not only is he my partner, he's my best friend and he is the person I want to write the rest of my book known as "Life" with. 
Oh, and I'm getting married to him this Saturday :)
The Red Bracelet =]
Last summer, I attended a summer program known as Upward Bound. I go there and have the opportunity to take college courses and it's really great! I get to meet people from all over our county. Last summer was different compared to the others, however. That summer, we had a group of 40 or so students from China come to visit. They stayed for a week on the campus with us and participated in multiple activities with us.
That's when I met Alex. He was quiet at first, but me and my friends went over and introduced ourselves and after that, he kind of just kept hanging out with me and I would sit with him at lunch and supper. While talking at first to one another was hard with the language barrier and all, it wasn't long before I became accustomed to his accent and him to mine. He was funny, super nice, great at basketball, good at singing, and he was super smart. (He also had a perfect smile and a really sweet laugh…but that's beside the point) (:  It was an amazing week. But all good things come to an end, right?
The night before he had to leave to go back to China, he gave me this bracelet, this red bracelet that a year later I still wear. He told me it represented good luck, love, friendship, and good wishes.
And then he left.
At first, I figured we'd lose contact. He lived in China. I was stuck here in northern Maine. With his unforgettable personality, he'd no doubt go off and make new friends and forget all about me. All I had was one picture of him and the red bracelet. However, the afternoon of the day he left Maine, I checked my email and I already had one from him telling me about his ride that day. After that, he'd continue to send me updates about his travels across America and his trip back to China. The summer faded away and Autumn came. With the new season, we started talking about school and basketball in our emails. By Spring, we had started emailing each other less frequently, however we never lost contact. Today, we are still in contact. And actually, he plans on coming to college here in America next year! I really hope we can end up meeting each other again, in person. It'd be nice to catch up face to face.
When he first left, I thought I'd lose contact with him. That we'd maybe send a few emails to one another, and then he'd stop emailing me back. I mean. He lived so far away and every day I would hear talk of how long-distance relationship after long-distance relationship didn't work out.
I like to think the legend of the Red String of Fate is true. Alex and I never lost contact with one another and I have the opportunity to possibly meet up with him this time next year. I know even if I don't meet up with him right away, that we will still be in contact. The Red String is a lot stronger than many would think. It can stretch miles and miles and will remain intact and will never break. Love, no matter in what form, is powerful and will transcend even the greatest distances. 
—Crystal
Sep 12
Never Broken.
I believe that the red string of fate, will bring those together who will be important to each other in their lives.
I met a guy a year ago, and we clicked instantly, we dated for a while and it didn't work out…6 months later he returned to my life in a whirlwind, we were still good friends, and ended up dating again, it ended a couple months later. But despite all this, I firmly believe that my string and his are intertwined at least, if not as "soul mates" then as very important friends to one another. Even now I can tell him anything, and our friendship is strong.
Jul 05
The Twisted Red String
I made Tim kiss me behind the piano in first grade to see my show and tell prize, an ant farm.  He was my "boyfriend" back then.  We moved to another town and we met again in high school.  We were friends, worked together and started dating again in high school.  He went off to the Marines in California and I stayed in Indiana to attend college.  Through the miles we eventually lost touch with each other.  We caught up again when I went to visit my brother who was stationed in California.  Tim had just brought his 2nd wife out to California.  He worked there, had a life and soon had 3 beautiful boys.  I married and had 2 daughters.  We still talked and reminisced about the good old days.  He divorced and I did too, we met again about 6 years ago.  We became close friends and found that we had so much in common even through the years and different lives.  Our Red Thread had twisted and turned but never broken.  We are about to begin a new journey together in our 50's.  Both of us feel that we will grow old together and enjoy all of our live that is left.  We feel "connected" in a way that is indescribable.  Both of us feel that we must of had the different lives to become who we both are today.  Even though our thread has tied us together since before we were born. 
May 23
Photo by Melissa C. Miller. San Francisco, CA. 2012.
Apr 17
[video]
Feb 24
Not Only Fate Ties Us Together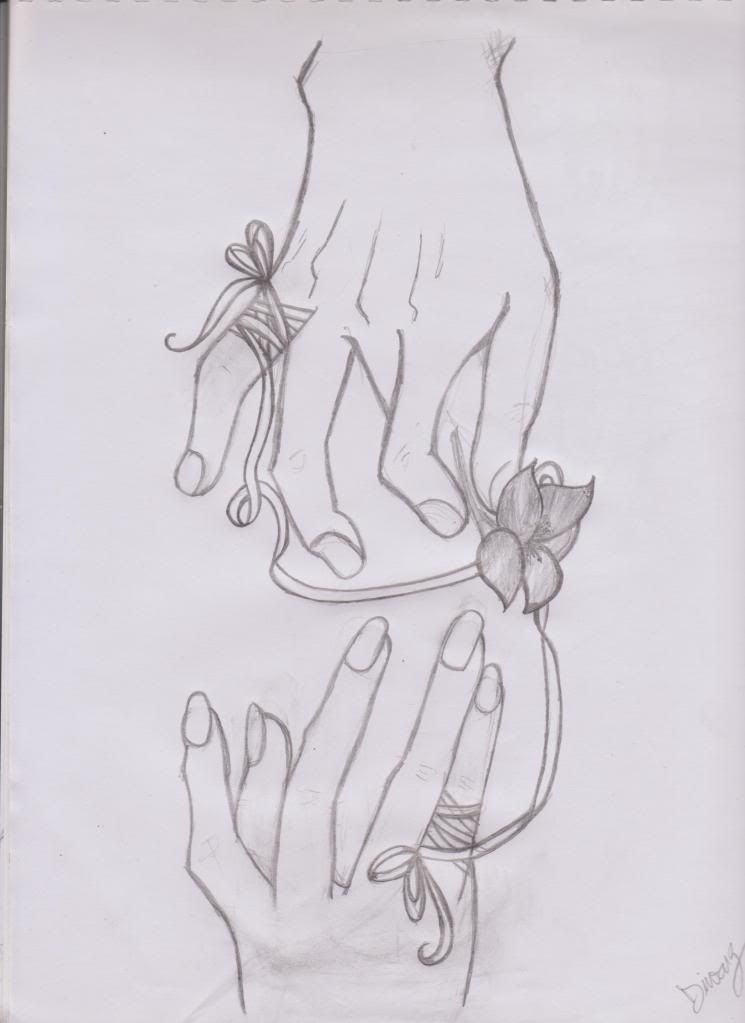 I hope my string is sill attached to you,i hope i can meet you soon.
A true story of the Red String
Last year (2011) my daughter met David-he is from Czech Republic she is from a small town in Florida-every 6 months they see each other-she goes to Czech or he comes to Florida. They are just alike in everyway possiable. She is 17 he is 18. They make time to Skype and be a part of each others lives. I see the golden thread that has been sewn by the greater good that ties their lives together-if the red thread is true I pray that it ties these two together.
At My End
Dec 17
I just wanted to drop you a line and tell you my idea.

My fiance and I are total nerds doing a japanese theme wedding. For our ceramony we are going to do a twist on a pagan hand fasting useing the red string of fate, conected around our pinkeys and draping it loosely over our hands. When we get married and get our photos done I will drop you a line explaining what we did and how we tied it in, and of course pictures!
Thank you very much for letting me know! Congratulations to you and your fiance!